"Shadows of Youth"
Season 1, episode 8


Airdate:
November 5, 2010
Credits
Writer(s):
Paul Dini
Director:
Genndy Tartakovsky
"Shadows of Youth" is the eighth episode of the first season of Sym-Bionic Titan.
Short synopsis
Edit
As a young orphan, Lance is sent to Galaluna's royal military academy, where he excels in combat training and enters into a bitter rivalry with an entitled bully named Baron.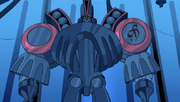 Characters
Edit
Main characters
Edit
Recurring and minor characters
Edit
This is the first episode that takes place entirely in the past, and does not feature Octus, Titan, nor the present-day versions of Lance and Ilana.
According to Paul Dini, this episode was based on a wordless flashback from the script that he and Genndy originally wrote, and none of the dialog he wrote was used.