This article is about the TV series. For the cybernetic giant, see Titan.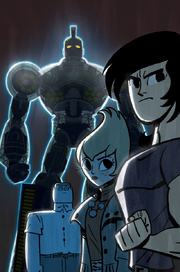 Sym-Bionic Titan is an animated television series created by Genndy Tartakovsky, Paul Rudish and Bryan Andrews and produced by Viking Animation Studios (formerly known as Orphanage Animation Studios) and Cartoon Network Studios. The first season consists of 20 episodes and premiered on Cartoon Network on September 17, 2010.
Main article: List of episodes
Production
Edit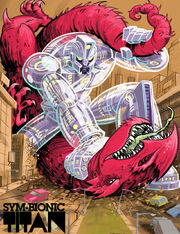 Genndy Tartakovsky first began developing the idea for the series about 2 to 3 years prior to its premiere.[1] The idea for the show "originally came from the idea of doing a show about an android in high school who secretly is a hero that becomes an Ultraman type." Series co-creators Paul Rudish and Bryan Andrews further developed the concept and expanded it to include three characters instead of one.[2] The primary goal for the series is to create "a character motivated action/drama/comedy" that explores teenage life, in contrast to Tartakovsky's previous series Dexter's Laboratory and The Powerpuff Girls, which both thoroughly explored childhood issues.[1]
Influences
Edit
Tartakovsky has acknowledged numerous influences for the show. The character relationships are inspired by G-Force/Battle of the Planets and the lead characters in Hayao Miyazaki's Castle in the Sky, but the most inspiration came from John Hughes movies such as The Breakfast Club and Sixteen Candles.[1] The setting of Sherman, Illinois seems to be a tribute to Hughes's fictional town of Shermer, Illinois. Lance is likened to a James Dean kind of character, but with more of a sense of humor.[2] Character designs draw upon the Fleischer Bros. cartoons, Speed Racer, Astro Boy, and other manga by Osamu Tezuka. The mechanical designs by Paul Rudish are inspired by the 1970's toy line Micronauts.[1]
References
Edit