"Tashy 497"
Season 1, episode 9


Airdate:
November 12, 2010
Credits
Writer(s):
Genndy Tartakovsky
Director:
Genndy Tartakovsky
"Tashy 497" is the ninth episode of the first season of Sym-Bionic Titan.
Short synopsis
Edit
Modula sends the most feared creature on Mutradd to Earth, but Ilana and Lance become emotionally attached to the cute creature before learning that it is a living bomb.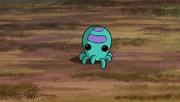 Characters
Edit
Main characters
Edit
Recurring and minor characters
Edit
Ad blocker interference detected!
Wikia is a free-to-use site that makes money from advertising. We have a modified experience for viewers using ad blockers

Wikia is not accessible if you've made further modifications. Remove the custom ad blocker rule(s) and the page will load as expected.