"The Ballad of Scary Mary"
Season 1, episode 12


Airdate:
February 2, 2011
Credits
Writer(s):
Darrick Bachman
Director:
Genndy Tartakovsky
"The Ballad of Scary Mary" is the twelfth episode of the first season of Sym-Bionic Titan.
Short synopsis
Edit
Ilana, Lance, Newton and Kimmy attend a "Scary Mary" party in the woods, where they meet new friends and a rival. However, the party gets scarier when a shapeshifting Mutraddi assassin attacks.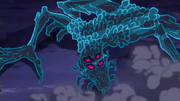 Characters
Edit
Main characters
Edit
Recurring and minor characters
Edit